Alexander closes Pangos strong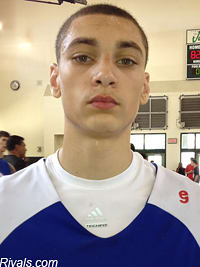 LONG BEACH, Calif. -- The 2012 edition of the Pangos All-American Camp came to a close Sunday with a round of games and then the annual top 30 and top 60 Cream of the Crop games. Walking home with MVP honors in the top game were Conner Frankamp, Stanley Johnson and Zena Edosomwan while Chicago's Cliff Alexander earned overall Most Outstanding Player after a strong weekend.
Alexander controls the paint
All weekend long, you could count on
Cliff Alexander
to be in the paint, mixing it up.
The class of 2014 big man from Chicago (Ill.) Curie is a strong kid and he doesn't mind playing a power game. Where other big guys are in a hurry to step out and show their faceup game, Alexander is near the rim, bullying other big men and playing power basketball.
Alexander runs the floor looking for fastbreak dunk opportunities, he's a controlling rebounder and he has great length. His body is one that will easily carry more strength and as he matures and fills out, Alexander will be even more powerful in the lane.
Already a five-star prospect who ranks No. 8 nationally in the class of 2014, Alexander more than backed up his status. He'll run as usual with Team Rose this July and listed Michigan State, Kentucky, Indiana, Illinois, Georgetown and Marquette among the many chasing him.
Top 30 game MVP's cap solid weekends
Saturday,
Stanley Johnson
told Rivals.com that he wanted to wake up those who were sleeping on him. A strong camp finished off with a very good showing in the top All-Star game should be enough to convince people that the 6-foot-6, 2014 class wing is a high level player.
Committed to Kansas, class of 2013 four-star
Conner Frankamp
had the West Coast crowd excited about him. Considered a jump shooter by most, Frankamp showed off the type of overall floor game at the point that will make him an effective college player. Yes, Frankamp can shoot and is one of the top perimeter shooters in his class, but the strength of his game is his ball-handling, passing and creation skills. He didn't have the type of scoring outbursts that he has with his high school and summer teams, but he ran the show and had a big impact on his team.
Reclassified into the class of 2013 from 2012, Harvard commitment
Zena Edosomwan
is a physical and strong power forward. Sunday afternoon, when everybody else was running on fumes, the 6-foot-8 senior was still in top shape and playing physical, aggressive basketball. He finished strong around the rim, is a dependable rebounder and has good hands. With another year to continue developing his offensive footwork, Edosomwan should be ready to make an immediate contribution on the college level.
Quick Hits
*
Fans of Penn State hoops should feel pretty good about two in-state players they've got committed in the class of 2013. Both Rivals150 point guard
Geno Thorpe
and three-star small-forward
Brandon Austin
had solid weekends. Thorpe can play at the one or the two, is a pretty good athlete and can be slick with the ball. Austin is a long and rangy ball handler who makes plays from the wing and by attacking the rim. Pretty thin at about 6-foot-6, Austin will need to get stronger, but he has game off the bounce.
*
Depending on his mood,
Wayne Selden
will tell you that he's more of a point guard or a shooting guard. One thing is for sure, the 6-foot-5, five-star prospect from the class of 2014 is very effective in pick-and-roll situations. Because of his physical strength, he's tough to knock off his dribble and that makes him hard to pressure into bad decisions. Add in his height and natural feel for passing the ball and it's hard not to be intrigued by the thought of him playing as a jumbo point guard. Recently, there have been rumors swirling that he will head to college as a class of 2013 prospect rather than taking a prep year. Selden told Rivals.com that he has not switched classes.
*
When he gets the ball, you can count on
Daniel Hamilton
making something happen quickly. The 6-foot-6 wing from the class of 2014 is very quick and often plays at mach speed. A sleek ball-handler who attacks the rim, Hamilton's nature and lack of strength mean that there are some mistakes and forced shots, but they all come from him trying to make something good happen.
*
He'll eventually have to add some weight to what is a very thin frame, but
Zach Lavine
will be getting a considerable bump in the next set of rankings. The near-6-foot-4 combo guard from Bothell (Wash.) High is an electric athlete with speed, quickness and plenty of offensive skill.
*
He hasn't even begun his freshman year of high school, but credit 5-foot-11 class of 2016 point guard
Derryck Thornton
for more than holding his own all weekend. Chatsworth (Calif.) Sierra Canyon has themselves a smart, quick and playmaking point guard for the next four years.
*
Loyola Marymount has got itself a good player in 6-foot-9 big man
Patson Siame
. He's a hard worker on both ends, will play with some fire around the rim and doesn't let much shake him. Whether he ends up as a 2012 or 2013 player is up for debate, and he could enroll for second semester next season.
*
Headed into the weekend, we expected to confirm that
Jaron Hopkins
was in need of a boost in the 2013 Rivals150 and he confirmed it. Look for Hopkins to climb into the four-star range when rankings are updated. Is he a point, is he a combo or is he a small forward? Does it really matter? Hopkins is a basketball player.

Click
Here
to view this Link.
[rl]