Adidas Superstar camp: Day 3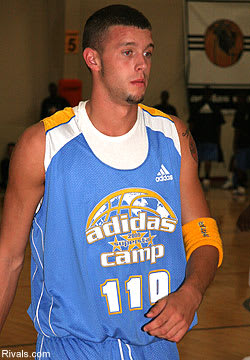 SUWANEE, Ga.--The action at the adidas Superstar camp picked up Thursday with the number of games extending from two to three a day. Several prospects played up to their national rankings, including Stanford commitment Brook Lopez, who is among the top players in attendance.
Thaddeus Young denies rumors
News broke on Wednesday that Memphis product
Thaddeus Young
had narrowed his list down to three schools. However, the 6-foot-8, 205-pound small forward told Rivals.com that the rumors were not true.
"That's not true. I haven't narrowed down my list yet and don't plan to until after the summer," Young said. "I'm still looking at every school that has offered me and I'm serious when I say that. There is a lot more I have to learn about each school before I could even begin to figure out which school is my best option."
Young, who is coming off an ankle injury, hasn't been up to his normal high level of play but indicated that he was close to 100% and was having a good time.
"Right now I'm taking it easy and trying to have a good time. I'm pretty close to being at full speed," he said. "I don't want to get re-injured and I don't have anything left to prove. I'm here because the competition is good and I want to play against the best."
West Coast scorer names favorite
Arizona native
Lawrence Westbrook
is one of the top guards on the West Coast he is receiving interest from some of the top programs in the nation. However the 6-foot, 193-pound combo guard has narrowed down his list of favorites to five with one standing out in the race for his signature.
"I took a visit to Memphis in April and they are my favorite right now," Westbrook said. "I love the way Coach (John) Calipari runs his offense. They had DeJuan Wagner and I think I'm the same type of player. He did well there and went on to the NBA.
"I liked the campus when I was there and I like the entire coaching staff. I feel comfortable with how they treat their players on and off the court. Right now, they are in a good position.
"But I'm also looking at Syracuse, Georgia Tech, Washington and Illinois who has really begun to recruit me hard lately. I'm going to try and set up some visits. We might possible go to Tech while I'm here in Atlanta."
2007 Texas prospect plans to leave state
Rising junior point guard
B.J. Holmes
is one of the most talked about prospects in the Lone Star state and the 5-foot-11, 160-pounder picked up his first offer last week and is ready to name a list of early contenders for his services.
"Texas A&M offered me officially last week. It is my first offer and I was excited about it," Holmes said. "Georgia Tech, Illinois, North Carolina and Michigan State are also schools I like a lot. I'm planning on leaving the state because I want to get out and see new things.
"But I'll still look at A&M, Texas and Baylor because they have good programs but I'm going to look really hard at the out-of-state schools."
With his first offer out of the way Holmes said he was going to enjoy the rest of the summer and concentrate on basketball.
"I'm having a lot of fun here at adidas. It's good competition and I feel like I fit in and have handled myself well," Holmes said. "I want to focus on hoops and continue to get better. This is a big month where I can get a lot of exposure so I want to make a good impression."
College coaches in attendance for Robinson-Young match-up
When
Thaddeus Young
and
Stanley Robinson
met Wednesday the bleachers were a who's who of college coaches. On hand to witness the man-to-man battle were Mark Gottfried, John Brady, Billy Donovan, Scott Drew along with assistants from Connecticut, Illinois, NC State, Vanderbilt, Virginia, South Carolina, Georgia Tech and Duke.
Was what anticipated as the day's top match-up quickly turned into a mismatch with Young still hobbled by an ankle injury and Robinson still playing at an elite level. Young got off to a slow start connection on only 2 of his first 8 shots. He finished with 7 points but he had several good looks and looked a little rusty. He did lead the game in rebounding with eight.
Robinson on the other hand continued to play inside-out, using his size and length to take a couple of dribbles and attack the basket. Also, in transition the 6-foot-8 jumping jack finished above the rim on several occasions and displayed his underappreciated passing ability. He finished with 15 points, five rebound, four assists and three blocks.
Stanford big man laying claim to top 10 spot
Last year at the adidas Superstar camp California power forward
Brook Lopez
proved that he was one of the top big men in the country so it's only fitting that Lopez, 6-foot-11, 235-pounds, made Suwanee his coming out party for the second year in a row.
Nobody has been more impressive through Thursday than the Stanford commitment with Lopez showing an improved offensive arsenal which includes his face-up jumper, right hand jumphook and a new and improved turnaround baseline jumper.
His footwork is more polished and outside the shadow of his loaded EBO team he has a chance to spread his wings and shine.
Quick, Fast and in a Hurry
Look for shooting guard
Lamar Falley
to wind up at Laurinberg Institute in North Carolina after being re-classified to the 2006 class. Falley, 6-foot-4, 185-pounds, has an offer on the table from LSU if he qualifies and also lists Tennessee, USC, and Utah among his favorites. He still has one of the prettiest jumpers around with the only question being whether he can handle the ball well enough on the D1 level.
Speaking of LSU, the good news keeps coming with the Bengal Tigers seemingly holding the inside track on 2007 center Robert Sacre from Canada who is proving to be one of the best underclassmen at the camp. Sacre, 6-foot-11, 260-pounds, is originally from Louisiana and both of his parents attended LSU. His mom moved to Canada for work reasons and dad is now employed as the athletic director at Southern University. Currently Oregon State is his only offer and he also has interest in several other Pac-10 schools along with LSU.
Javarias Varnado is sitting on offers from Colorado and Buffalo with Xavier, Mississippi State, and Tennessee among his favorites. However, there was a positive buzz from several high major coaches at his early game Wednesday. Look for his options to increase. He poured in 23 points in one game and although painfully thin, he is a bouncy athlete who gets a lot of baskets near the rim.
Small forward Antonio Pena continues his impressive play. In addition to consistently knocking down his 17-foot and in jumpshot, he is posting up strong and grabbing boards while leading his team out on the break.
Memphis power forward
Pierre Niles
had a good afternoon effort against Florida commitment
Marreese Speights
. Niles scored at will by overpowering the future Gator within 5-feet of the basket or pulling him out on the perimeter where he knocked down jumpers or drove by him. Defensively, Niles pushed Speights out to 20-feet from the basket where he settled on shooting jumpers. Speights did beat Niles down the floor on several occasions which resulted in a few easy baskets and showed good form from the outside.
Fort Worth combo guard
Kelvin Lewis
has offers from Notre Dame and Charlotte while Virginia, Florida State and Nevada are showing strong interest. He scored 13 points and pulled down five rebounds in a Thursday contest.
Michigan commitment
K'Len Morris
has been attacking the basket all week. Morris, 6-foot-5, 190-pounds, likes to put the ball on the floor, drive hard to the rim and finish. So far he hasn't shown alot from outside the paint but he gets after it on defense and drew a few positive comments from some of the coaches in the stands.
Georgia Tech pledge
Javaris Crittenton
continued his torrid pace this week with a 28-point effort. Crittenton seems likes a man on a mission and carries the scoring burden for his undermanned team.
Kiwan Smith
from Laurinberg Institute has a top three of Louisville (offer), Pittsburgh (offer) and Clemson (offer). North Carolina, Maryland, Virginia and Iowa round out his list of favorites.
San Antonio small forward Carlton Scott is receiving the most interest from Georgetown and Oklahoma who sit at the top of his favorite list.
A developing underclassman to watch is 2007 big Boubacar Sylla who has nice size and can finish with either hand. He needs to improve his footwork, which cost him easy baskets on a couple of occasions, but he is a force on the boards.
B.J. Holmes was patient yesterday, while sacrificing his scoring to show a mature patience at the point. But Thursday was a different story; he showed a nice pull-up mid-range jumper which complimented his penetration nicely. In addition to 15 points he had six assists.
2007 Georgia small forward Terrell Bell is a long athletic prospect that is more advanced on the defensive end where he is a strong on ball defender and aggressive on the boards. Offensively, he gets a lot of tip-ins near the rim but also knocked down a couple of mid-range jumpers. He is a high major athlete who will get looks from the ACC and SEC.
Lacedarius Dunn has had several good games and the 6-foot-4, 190-pound, shooting guard has more than a handful of college coaches scrambling for their coaches guide. The Louisiana native claims offers Baylor and Oklahoma with interest from LSU, Texas Tech, North Carolina and Colorado State. He is part of the 2007 class.
Unfortunately for 2007 wing guard
Drew Viney
his teammates don't feel the need to find the 6-foot-6 shooter on the perimeter and as a result the Californian has seen his touches limited in addition to his scoring. Even with the limited looks Viney is a scorer in the mode of former Kansas signee
Alex Galindo
and will have plenty of high majors in pursuit of him next year.
Thursday night 2008 Ohio State commitment
B.J. Mullens
did what couldn't be done up til that point. He held
Brook Lopez
in check in a head-to-head match-up. Of course Mullens had some help in the form of Lopez's guards who decided it wasn't a great idea to feed the big man. But Mullens did a good job on both ends of the floor and challenged Lopez offensively on several occasions. First Oden and the, Mullens close behind, Buckeyes fans have to be smiling. He'll check in pretty high went Rivals.com premiers the 2008 class rankings.