Adidas Nations: What we learned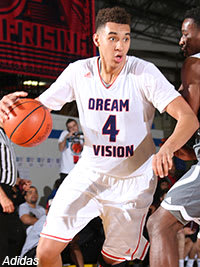 LONG BEACH, Calif. -- The 2014 edition of Adidas Nations came to completion with a pair of games televised on ESPNU Monday night. With tired kids all over the floor, home viewers probably didn't get the best look at the type of talent that was on hand at Nations. Rivals.com was on hand all week, and today we take a final look back at what we learned at the event.
Point guard made difference for 2016 teams
Both of the USA 2016 squads (Team Lillard and Team Wall) made the championship game, while one of USA's 2015 teams (Team Howard) played in the consolation game and the other (Team Rose) didn't even make it to the television games. Despite being populated with younger players, Team Lillard and Team Wall had the advantage because of their superior point guard play.
The event's winning team, Team Lillard, almost had an embarrassment of riches at the point guard position. Featuring five-stars
Dennis Smith
,
De'Aaron Fox
and
Lonzo Ball
-- who rank No. 5, No. 13 and No. 16 respectively in the class of 2016 -- Team Lillard had three of the top six 2016 point guards in a class that looks loaded with floor generals (at least at the top).
Each of them brings a different style. Smith is a hard charger. At about 6-foot-2, he is a big-time athlete, has a strong frame and is all about getting into the lane and making things happen around the rim. Smith was outstanding all event long and showed why he is the top-ranked point guard in his class. A thin southpaw, Fox is also a natural scorer and is in the process of learning the point guard position. His biggest weapon is a tremendous first step. Ball isn't quite the athlete that Smith or Fox is, but his feel for the game is tremendous. Ball is a gifted passer who sees the floor as well as any point guard the West has produced in quite some time.
Though Team Wall took a pretty bad beating from Team Lillard in the finals, losing 106-78, its two high-end point guards shined throughout the week. Five-star
Kobi Simmons
, who ranks No. 15, and four-star
Payton Pritchard
(No. 34) were both outstanding in stretches. Simmons has very good size at 6-foot-4 and is another speedy athlete who is at his best scoring off the dribble and then making plays for teammates when defenses collapse. The best deep jump shooter of the bunch, Pritchard is also a point guard who really puts defenders on edge because of his ability to play as either a primary scorer or distributor from the point.
Poyser is a legitimate high-major option
Rivals.com had gotten to see plenty of rising senior
Jalen Poyser
while he played with Canada-based CIA Bounce in Nike's EYBL. Playing for Team Canada at Nations, though, the 6-foot-3 point guard took his game to an entirely new level and showed that he should be a legitimate option for high-major programs in search of a 2015 point guard.
A long and slender ball handler, Poyser demonstrated a great feel for getting deep into the lane and making things happen. If he couldn't score at the rim, he found a way to kick at the last second to an open teammate or he get himself to the foul line. He supplemented his off-the-dribble game with just enough deep jump shooting to keep defenders honest.
Perhaps it was getting a chance to play more of a featured role, or perhaps it was just recent development of his game, but Poyser showed a lot of ability that we simply hadn't seen from him in prior viewings. If what he showed at Nations is what to expect down the road, then Poyser's recruitment should heat up quite a bit, and he is somebody to keep an eye out for in the next Rivals150 update for the class of 2015.
Jeter will be a good fit at Duke
Monday night,
Chase Jeter
made official what had long been suspected when he announced that he would play his college ball at
Duke
. The No. 8 player in the class of 2015, Jeter has steadily improved since making his way onto the scene as a skinny freshman at Las Vegas Bishop Gorman, and he should be a great fit at Duke.
Though he has potential to ultimately play as a power forward at the highest level, Jeter is the ideal center for the Duke system. Chief in that is his mobility. Despite being every bit of 6-foot-10, Jeter can really move his feet and cover a lot of ground in a hurry. He will be able to keep up with Duke's offense and can be utilized to set ball screens and still make his way back into the paint to be a rebounder or scorer.
As time has gone by, Jeter has also become much more accomplished as a rim protector and rebounder. His emergence as a guy who can erase mistakes made by gambling (or lazy) perimeter defenders should be a huge boost, and his ability to clean the pass-and-launch outlets up the floor will allow Duke to run. It isn't a perfect comparison, but the more we see him play, we see Jeter perhaps developing into a Joakim Noah-type of big man.

Click
Here
to view this Link.
[rl]