Adidas Nations- Saturday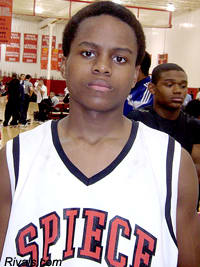 CHICAGO - The folks at Adidas Nations have something good going. During Saturday's action at the 2011 edition of the Nations program, it was quite evident that the event is organized and has plenty of high school and college talent. Saturday's feature event was a game between the U.S. 2011 and U.S. 2012 Nations teams. While there was a ton of talent on the floor, '12 point guard Kevin "Yogi" Ferrell stole the show while leading his 2012 squad to a come from behind victory.
Saturday standouts at Nations
Kevin Ferrell
, PG- Yogi got off at slow start and looked downright shaky during the first half. He was playing a little out of control and seemed to be pressing as his team trailed into the second half.
During the second half, the 5-foot-11 point guard got it started defensively by making life rough on
Quinn Cook
and
Ryan Boatright
. Then, he hit one of his trademark jumpers. After that, another. Then, a pull-up on a dime three on the break and Ferrell was in the zone. He made a tough floater from 12 feet plus a foul and found others for easy buckets to go along with his 17 second half points.
Quincy Miller
, PF/SF- Arguably the best prospect in the gym counting some pretty high level college guys, Miller impressed in Chicago. His quickness and ball-handling are too much for any big to handle and he's a pretty skilled low-post operator. More than anything, it's that ridiculous quickness that opens up the game for him. He had a jumper blocked by
Isaiah Austin
and came right back, took Austin into the post, spun and finished a tough dunk in the near seven footer's face. A year ago, you could almost guarantee he would have tried to shoot another jumper or do too much off the dribble as a response. Good to see a player maturing.
LeBryan Nash
, SF- Because of his strength and ability to finish in the lane, the 6-foot-7 Nash can play as sort of a Damion James type combo forward. His bread and butter, though, is quickly becoming power drives to the rim and activity on the offensive glass. Nash said he knows that his consistency/effort level is something that has been questioned and he brought the energy on Saturday and was relentless on the glass to go along with a game high 26 points.
Quinn Cook
, PG- There are other points with more quickness than Cook has, but few in the country can match his creativity as a scorer. A good jump shooter, he's also a contortionist in the lane who finds every possible angle to finish with off the glass. It won't be a surprise to see him play some two in college to keep his scoring on the floor. Similar to Scottie Reynolds, but more of a natural floor general.
Jordan Adams
, SF/SG- We mean it in the most complimentary way possible when we say that Adams has old-man game. The 6-foot-4 wing isn't the most athletic cat, but he's got a high skill level and a super feel for scoring the ball. He made deep jumpers, scored from the mid-range and lulled defenders to sleep all night long while scoring a team high 20 points.
Amile Jefferson
, PF/SF- A true tweener, the skinny 2012 combo forward doesn't really fit as a three or a four. But, despite no true position and a skinny frame, the guy just gets stuff done. The reason is a very high hoops IQ, a great motor and good old fashioned Philly toughness.
Shabazz Muhammad
, SG- What's so great about Muhammad is that each time you see him, he's improved. Deuce Bello caused him to rush some shots meaning he was off in his jumper, but otherwise he was rock solid. His handle is improved, he gets on the glass and nobody competes more consistently. His name deserves to be in the discussion for top player in the class of 2012.
School lists and more notes
A longer look at Cameron Ridley would have been nice. The impressive big man from Texas clogs the lane as a defender and has good offense. He's a late add to the program who is actually playing with the 2011 team despite being a 2012 guy. He listed Texas, Baylor, Texas A&M, Oklahoma, Arizona, Georgetown, Duke, Utah, Missouri, UNLV, SMU, Kansas and more. ...
Rodney Purvis
is another young guy playing on the 2011 team. His playing time was limited, but his speed sure wasn't. It's a toss-up between he and
Deuce Bello
for fastest guy from one end to the other. ... Speaking of Bello, he didn't have huge numbers but was impressive. He's very good in pick and roll and is turning into a bigtime defender. ...
Dajuan Coleman
probably had the most success of any of the 2012 bigs against the 2011 front line. But, things didn't exactly come easy for him. At 6-foot-8, he's a bit of an undersized center who isn't explosive. But, he's crafty and has maybe the best set of hands in high school basketball. ...
Yogi Ferrell listed Indiana, Butler, Notre Dame, Purdue, Ohio State, Illinois, Washington, Michigan, Virginia and Florida. ...
Jordan Adams listed Miami, Georgia, Tennessee, Florida, Florida State, Marquette, UCLA and Providence and said all had offered him. He's planning to trip to Tennessee and Miami this fall but hasn't set any dates up. ...
Alex Murphy
discussed his love for MTV's show the Jersey Shore and discussed schools. He's currently listing Florida, Duke, Arizona, Kansas, Texas, VIllanova, Butler, Boston College and Virginia. ...
LeBryan Nash said that he'll for sure schedule official visits to Oklahoma State and Baylor. Others he's considering are St. John's, Syracuse, Kentucky, UCLA, Texas, Oklahoma and Kansas. He plans to have a top five by the end of the month. ...
Finally, Shabazz Muhammad said that he enjoyed his mid-week visit to Memphis. He'll also visit North Carolina for their Late Night activities but hasn't set any other visits and says he's in no rush. Others he's listing are Kentucky, UCLA, Kansas, Duke, UNLV, Louisville and Texas. ...