Adidas Nations: Jeter previews decision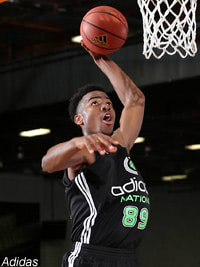 GARDEN GROVE, Calif. -- The college coaches are no longer able to come
out, but the players can still play. This weekend, many of the nation's top
players have come out west to compete in the Adidas Nations program. The gym was
hot and the play was a little ragged at times on opening night, but there are a
lot of impressive prospects on the floor. Five-star power forward
Chase Jeter
will announce his decision on Monday night and talked about what he's
thinking after having a nice night on the floor.
Jeter ready for
decision day
Five-star center
Chase Jeter
's decision is imminent. In fact, the
6-foot-10 product of Las Vegas (Nev.) Bishop Gorman is just a few days away from
The No. 8 player in the class of 2015, Jeter will announce his college choice on
Monday night during ESPNU's coverage of the Nations finals. Friday night, he
went for 13 points and eight rebounds as his 2015 US Howard team knocked off a
squad from Canada.
Jeter continues to develop as a back to
the basket scorer. He made jump hooks and ran the floor Friday, but all anybody really wanted to discuss with
him, though, is his upcoming
decision.
"I'm pretty excited and it's been a fun process," said Jeter. "I've given myself
enough time to see my schools."
Before he makes his decision, Jeter feels like he has business to handle at
Nations.
"I want to show how I'm one of the top players," said Jeter. "Every time I step
on the floor I want to be known as somebody who plays hard, gets rebounds and
scores."
In the past, Jeter has listed Duke as a leader and the Blue Devils have had
considerable buzz in his recruitment. Jeter acknowledged his previous statements
but also said that as he has gotten closer to making his choice he has thought
more about potentially going to school closer to home.
According to Jeter, he made his final decision around a week ago and he plans to
contact his future coach before the announcement so they should know before he
announces on television.







Click
Here
to view this Link.
[rl]