Adidas May Classic: Part II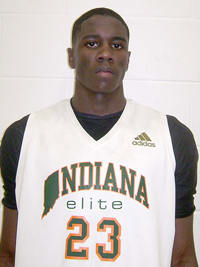 Coming into the tournament there was no doubt that at the 16-and under level Indiana Elite was going to be tough to compete with. The host team is one of the most talented in the tournament, and that was on full display against undermanned competition.
In the win Perea was a monster. He blocked shots, snatched rebounds well above the rim, converted in transition, and threw down incredible ally-oops. His skill set is still a little raw on the post, but his strength and athleticism make him a very difficult matchup for most forwards, especially at his age level.
One of the highlights of the event has been the 15-and under super pool action. In a morning game between Ohio Basketball Club and Eric Gordon All-Stars, some impressive performances were on display.