Adidas Invitational- Day two breakdown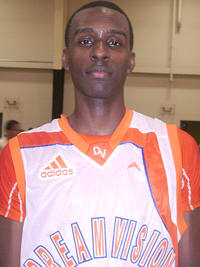 INDIANAPOLIS - The Adidas Invitational continued on high school and middle school campuses around Indianapolis on Wednesday. Just as there was on Tuesday, a healthy contingent of college coaches was on hand to survey the talent. For the second day in a row, it was underclassmen like Shabazz Muhammad and Gabe York who stood out while a few lesser known guys from the class of 2011 helped their future recruitment.
Day two standouts
Shabazz Muhammad
, SG, Dream Vision- There wasn't a better player in the gym during the first two days of action. The lefty wing was just dominant in all phases of the game. If he needed to intimidate somebody with a dunk, he did that. If he had to get a rebound in traffic and score the ball when his team needed a bucket, he did that. Need a deep three at a big moment, he gave that too. Even so, it wasn't enough as his team fell to a under manned Compton Magic squad in the playoffs. He's Rashad McCants with his head screwed on straight and had guys like Roy Williams, Bill Self, Rick Pitino, Ben Howland Mike Krzyzewski, Josh Pastner and others watching his every move.
Gabe York
, SG, Compon Magic- It's not a matter of if the 6-foot-2 shooting guard will crack the rankings in 2012, it's a matter of how high he'll enter them. He's been nothing short of outstanding in Indy and is a leader for a crew that has now won over 30 games in a row. He can catch and shoot, go off the bounce and has athleticism to finish. He's skinny, but doesn't lack for toughness. West coast high majors already knew all about them, but he's got coaches across the country scrambling for info.
D.J. Fenner
, SF, DC Assault 16's- As soon as the 6-foot-5 small forward steps on the court he catches your eye because of his impressive frame and size for a class of 2013 kid. He plays under control and has a skill level that comes pretty close to matching his physical gifts. On Wednesday he spotted up for some threes, shot faked and drove to the rim and showed some very clever passing. He will be watched by coaches at the highest level.
Nigel Williams-Goss
, SG/PG, Double Pump Elite- There's already a pretty healthy argument among coaches and analysts as to whether rising sophomore from Henderson (Nev.) Findlay Prep -- by way of Portland, Ore. -- is more of a one or a two. What there isn't an argument about, is the near 6-foot-3 guard's skill level and feel for the game. He's under control, can play the role of set-up guy and he can score. Mixes in lots of pull-ups and floaters and plays without running his mouth. He's fun to watch.
Tyree Robinson
, SG, Dream Vision- Another member of the class of 2013, the 6-foot-3 Robinson is a nice looking young player. Physically, the product of San Diego (Calif.) Lincoln is a phenom. He's got big time explosion, a great frame and outstanding body control. Skills? He's got those two as he can attack off the dribble, shoots with good range and shares the ball. The chance to be recruited at the highest level is there.
Deion Clark
, SG, Florida Elite 16's- You know what's on the 6-foot-3 shooting guard's mind? Offense. This kid is on the floor to get buckets and he does it at the rim, from midrange -- the one handed runner/floater he shoots to 15 feet is very slick -- or from beyond the three point line. Out of Naples (Fla.) Baron Collier, he looks to have a bright future.
D'Angelo Harrison
, SG, Franchize All-Stars- His team fell early in the morning, but it wasn't for lack of effort from the 6-foot-3 scoring machine. He went for 47 (33 of his team's last 37) and did it in every way imaginable. Very right hand dominant, defenses still can't stop him when they know what's coming. Looks like a guy who will be best suited for a free-wheeling offense with lots of freedom. Even though he won't list schools, Oklahoma State, Baylor, Texas A&M, Marquette, Houston, Memphis and others had coaches tailing him closely.
Christian Kirk
, PF, KC Pump 'N Run- A 6-foot-6 tweener with skinny legs and a strong upper body, Kirk had a huge day on A crafty scorer with some bounce in the lane, he uses a jump hook and up and under move to help navigate his way against bigger defenders. His team went down to Indiana Elite, but he was able to score straight up with regularity against a much bigger
Marshall Plumlee
.
Juan Anderson
, SG, Oakland Rebels- It didn't take long for the 6-foot-5 swingman from Castro Valley (Calif.) High to blow up. It wasn't without reason, either. Not only is he tall, he's got an excellent base and fluid athleticism. He handles the ball, has exceptional hands and can really score between the rim and 17 feet. His shot isn't bad out to the three point line, but he does develop a minor hitch as he gets out a little deeper. He now sports offers from Arizona State, Cal, San Diego State, Utah State, Weber State, Murray State, Portland, San Francisco, UC Davis, Northern Colorado and Santa Barbara.
Damion Lee
, SF, DC Assault- His placement among the day's standouts is also factoring in how well he played on Tuesday. A good looking 6-foot-5 wing with long arms, athleticism and range to the three point line, he's made his mark on Indianapolis. He plays with a motor and has upper end mid majors to high majors coming back to take second and third looks. He'll be at Oakdale (Conn.) St. Thomas More for a year of prep school.
Antwan Space
, SF, Urban DFW Elite- When you've got his size (near 6-foot-8) and you can shoot the ball like the Desoto (Texas) High wing does, things can pick up in a hurry. After a nice day on Tuesday, he was even better while we watched on Wednesday. He's got a turnaround jumper he will shoot over either shoulder, can create his shot and also plays with some athleticism. Big 12 programs like Texas, Texas A&M, Baylor, Missouri and Kansas State look poised to join Colorado, Houston and Gonzaga in making moves for him.
More day two notables and notes
West coast high majors are tracking the Compton Magic's
Wesley Saunders
pretty closely and with good reason. A strong 6-foot-5 small forward, Saunders is willing to battle around the rim, hits the glass and slashes to the cup in transition. The Magic were without their full crew in Indianapolis, but Saunders did a nice job of stepping up and complimenting scoring machine
Gabe York
. … For the second day in a row, the DC Assault's
Torian Graham
was putting on a dunking exhibition. The 2012 wing is much more than a leaper, though, and is a guy capable of putting up flurries of points off the dribble and via pull-up jumpers. Kansas State assistant Dalonte Hill was following his every move and early word is that the Wildcats could be the team to beat. … Another 2012 DC Assault guy to keep an eye on is six foter
Jamal Lewis
from Sidwell Friends. Playing for the Assault's 16 and under group, Lewis showed quickness with the ball, an innate ability to get into the lane and create and the willingness to take and knock down some deep jumpers. … He desperately needs to add strength to his rail thin frame, but Double Pump Elite's Spencer Dinwiddie has some game. A long 6-foot-3 combo guard, he shows signs of being able to man the point full time down the road. He's got lots of west coast high majors taking long looks … He's still rail thin, but keep an eye out for rising sophomore
Stephen Domingo
. A 6-foot-6 wing with length and a pretty jumper, he got loose against the Alabama Celtics knocking down shots and proving to be quite the clever post up player. He runs with the Dream Vision 16U crew and attends San Franciso (Calif.) St. Ignatius. … Winston Shepardis clearly one talented dude. The long and wiry wing is capable of playing fast, can handle the ball and is a gifted passer. At times, he can look like a young Scottie Pippen. However, the 2012 standout from Henderson (Nev.) Findlay Prep is also very wild and needs to cut down on all of the mental errors to maximize his potential. …
It was a nice day for Raytown (Mo.) South point guard
Corey Hilliard
running the show for KC Pump 'N Run. His shot is a bit streaky, but he's making good decisions and brings doses of physicality, size and speed to the position. Wichita State looks like they are about to join Missouri State in turning up the heat on him and high majors are snooping around. … During an afternoon playoff game,
Ishmael Wainright
drew the likes of Bill Self, Rick Barnes, Bob Huggins, Mike Anderson, Frank Haith and Roy Williams to watch bits and pieces as the physically impressive wing hit the floor with the Kansas City 76'ers 16 and under group. …
Tyliek Kimbrough
of the New Heights 16's is a fun guy to watch. A New York point guard to the core, he's a tough ball-handler who plays physical and in your face. … Some trusted spies informed us that 2012 big man
Michael Lewis
of New Orleans Elite was doing his thing. … Oakland (Calif.) High will have one of the top public school backcourts in the nation next season. Stud wing
Jabari Brown
isn't in town, but high school teammates
Dominique Taplin
and
Trevawn Taylor
are in Indy with the Oakland Rebels. Both guys are quick and can go get it off the dribble. … We need to take another look at him and he's likely still a bit of a project, but
Isaac "Izzy" Freeman
of the Virginia Assault is pretty intriguing. The senior to be at Manassas (Va.) Osbourn is pushing seven feet tall, moves pretty well and looks like a guy that could be molded by college coaches. …