adidas Gauntlett: Team Loaded lives up to the name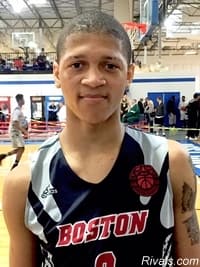 During Sunday's championship game against a tough Michigan Mustangs squad, Smith and Adebayo took over in the second half and blew open a close game to earn a 79-64 win.
Both Smith and Adebayo are explosive athletes and they used that to turn the game on its head. A 6-foot-2 floor general with strength, Smith kept finding another gear to blow by defenders off the dribble while Adebayo punished people around the rim with his physicality, emphatic dunking and relentless tracking of rebounds. Smith finished with 16 points, six assists and five rebounds while Adebayo added 23 points and 10 rebounds of his own.
"Energy was the key," Smith told Rivals.com. "We played five game this week instead of four last time so for us to come out with energy was great and made the difference."
Now available, the bruising and versatile 6-foot-4 shooting guard says that he tries to pattern his game after James Harden. College coaches seem to approve as he was a favorite target of high-end coaches when he took the floor with the New York Rens.
Heron said he just wants to be sure that he considers all of his options before making a second commitment.
"I just wanted to make sure that I took the time to weigh all of my options," said Heron. "I had a few schools that were calling me and I realized that I want to be able to take some visits and make sure I'm seeing everything."
Currently ranked as the No. 43 player in the class of 2017, the 6-foot-1 four-star looked very good over the weekend. Notably, he has added some strength to his lean frame and he has increased his quickness and explosiveness around the rim.
Those physical improvements have allowed Ashton-Langford to develop into an excellent downhill point guard. He made it a habit of getting to the rim and he pushed the tempo as often as possible. He will need to continue to get stronger and has to get more confident with his jumper, but he backed up his lofty status and should see his recruitment start to pick up.
"We only lost one game by one point this weekend so that feels good," said Ashton-Langford. "I think that I played well. I was getting to the basket and I did a pretty good job of getting my teammates assists."