Adidas Friday: Bossi's takeaways and who the coaches watched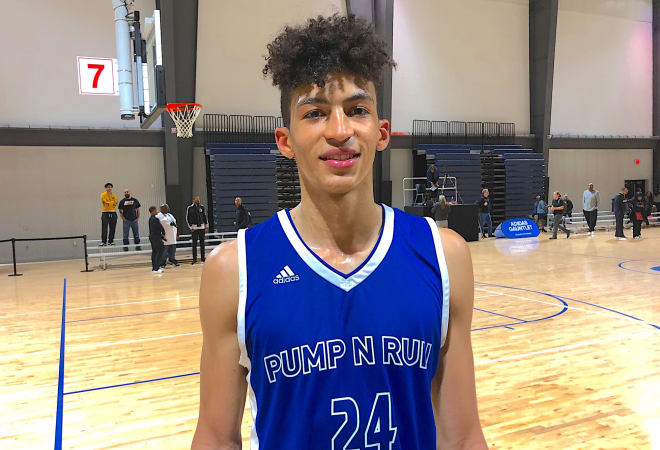 EMERSON, Ga. -- The second live period kicked off on Friday night. Who were the college coaches watching and who stood out? Hint, four-star wing Max Agbonkpolo figures big into national analyst Eric Bossi's takeaways and college coach tracker.

MAX AGBONKPOLO IS ON THE VERGE OF TAKING OFF
This spring, we identified smooth wing Max Agbonkpolo from California as somebody who had serious potential for upward mobility in the rankings and as a college prospect. On Friday night at the Adidas Gauntlet, Agbonkpolo proved that faith was well placed in a 17 point and four rebound effort for Pump N Run.
Agobonkpolo didn't even think he played that well, but the college coaches courtside saw the same things that I saw. That is a huge level of skill, soft touch and feel for the game packed into a 6-foot-7, pushing 6-foot-8, frame.
Agbonkpolo now holds offers from the likes of Arizona State, Washington, San Diego State, Arizona, USC, UC Santa Barbara, Tulane, Cal State Northridge, UC Davis, Grand Canyon, Long Beach State and TCU among others. That group is only going to get more crowded with others like Virginia, Michigan, Kansas, Louisville, Gonzaga, Texas and more keeping track.

Because of his size, shooting and ability to make plays off the dribble, Agbonkpolo has the tools to make a big climb in the rankings and he's likely going to be one of the country's hottest prospects after the weekend. He said that for now he's eyeing a decision after the summer and mentioned USC and Washington as two programs he would like to see officially.

THE STATE NORTH CAROLINA ALWAYS HAS PLAYERS
When it comes to producing high level basketball talent, North Carolina has become a reliable source. It seems each time I watch a team from the state I haven't seen I find more talent and that rang true on Friday night when I spent some time watching Garner Road and Team Wall's 16U teams as I moved throughout the gym.
Playing for Garner Roads, the play of four-star power forward Day'Ron Sharpe wasn't a huge surprise. He's already a top 100 player but looks like he could move up because of his 6-foot-8 size, big frame and skill. He's a tremendous passer, has touch as a shooter and has some of the best hands in the entire country. NC State, Virginia, UConn, East Carolina and Old Dominion have already offered with others like North Carolina, Wake Forest, Oklahoma, Charlotte and more taking a close look.
Not as well known, Jaden Seymour is a prospect. Every bit of 6-foot-7 with long arms, athleticism and quickness, he looks like he was born to thrive in an up and down game. His shot mechanics are good and despite coming from a state loaded with talent he's, a bit surprisingly, not yet become a big name. With a little more polish, high major offers could be in his future and he's one to watch down the road.

ASSUMING THEY PICK USC, MOBLEY BROTHERS WORTH THE HEAT
Any time a program hires a coach who has a high profile son or sons, their motives will be questioned. Naturally, those questioning a hire wonder if a hiring is about more than just landing those talented children. If hiring Eric Mobley, the father of 2019 top 30 power forward Isaiah Mobley and 2020 five-star big man Evan Mobley, means that USC lands the duo, then Andy Enfield can stand any heat he might get and any players on top of them are gravy.

Isaiah is a skilled scorer while Evan could even be under ranked at No. 12 nationally because of his length, skill and blossoming athleticism. At this point, it's hard to imagine them not following their father to play for the Trojans.

The eldest Mobley isn't exactly a slouch. He played college hoops at Portland and for years overseas. He's a long time grassroots coach and very well liked in SoCal on top of all of that. Five-star big man Onyeka Okongwu teams with the Mobley brothers and is out with an injury, but he's another that is looking hard at USC and Mobley won't hurt the Trojans chances with him either.
WHO THE COLLEGE COACHES WATCHED
There was no shortage of coaches running around the Lakepoint complex checking on the talent at the Adidas Gauntlet on Friday. Here's a look at some of the players they were targeting.

One of the very best in a big man heavy class of 2019, Bassey made things look very easy in a 20 point and 13 rebound outing for Yes II Success. There has been a lot of talk that Western Kentucky could be the team to beat and head coach Rick Stansbury appeared to be the only coach linked to him taking a hard look while I watched. Cal is looking to get involved and had an assistant on hand.

One of the top shooting big men in the class of 2019, Baker had trouble getting quality touches for Basketball University against a swarming Dream Vision -- led by 2020 five-star guard Kyree Walker who had coaches from Arizona State where he's committed watching -- squad. Baker did have North Carolina, Texas, UCLA and Texas A&M on hand.

A five-star wing, Brown had the likes of Virginia Tech (Buzz Williams), UNLV (Marvin Menzies), UConn, Florida, North Carolina, Tennessee, South Carolina, Georgia Tech (Josh Pastner), Wake Forest (Danny Manning), Clemson and Texas A&M among his crowd.

One of the most explosive guards in the country regardless of class, Odom had the likes of Georgia Tech (Josh Pastner), Georgia, Xavier, Clemson and others on hand.

I don't know if I saw a big man with better hands than Sharpe on Friday night. Wake Forest (Danny Manning), Georgia Tech (Josh Pastner), Michigan, Xavier, Tennessee, Michigan and Clemson were among those watching.

Look for the four-star wing's stock to take off this spring and the fact that Texas, USC, Arizona, Arizona State, San Diego, San Diego State (Brian Dutcher), Virginia, Oregon State and Gonzaga were just a few on hand.

A mobile combo forward who is starting to pack on muscle, the four-star Williams had Georgia, Alabama (Avery Johnson), Louisville (Chris Mack), Clemson, Xavier, West Virginia, Georgia Tech (Josh Pastner), LSU, Mississippi State, Florida, Texas A&M, UMass and more on hand.

A Rivals150 big man with length and athleticism, Wilson is a long term stock. Wake Forest (Danny Manning), Georgetown, South Carolina, Clemson, Vanderbilt, Old Dominion, VCU (Mike Rhoades), Charlotte (Ron Sanchez) and East Carolina (Joe Dooley) were just a few in the crowd.