ACC Notebook
Recruiting updates and preseaon reports for ACC schools:
Virginia: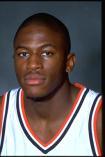 As most college basketball fans know, the recruiting class of 2001 was a very strong one for the Virginia coaching staff. They did an excellent job in solidifying the front line and their backcourt. The progress made by these freshmen at Virginia is going to be a key factor for the Cavaliers this season.
Interior forward Jason Clark (right) just started practicing this week. But he is a tough warrior on the glass. Along with his front line first-year mate, Elton Brown, they will be counted on heavily to take some of the rebounding and inside defending pressure of junior star Travis Watson, who has become one of the best players in the country.
In the backcourt, the Cavaliers are hoping that they get some significant production out of Jerome Harper and Keith Jenifer, who appear to be a nice future tandem for Virginia program. Our ACC sources tell us that so far each of these freshmen are off to a good start. They are getting a lot of playing time so far in practice because they have been consistent. The Virginia program believes these freshmen will be instrumental in determining how successful Virginia will be this year.
The Cavaliers are playing a big man with Watson during these practices. This is to make Watson first comfortable with his new help. And it's also to make sure Travis knows he has some interior help this season. Watson did much of the rebounding last year for the Virginia team. Both Clark and Brown presence will help Travis concentrate more on the offensive end. Right now, it appears that the freshmen are delivering positive rewards for coach Pete Gillen.
Duke:
It's quite clear to us that Duke deserves the number one ranking to start the season. They are the defending National Champions and they have the talent to win it all again next year. Any reasonable person would have to at least say they deserve the number one ranking based upon those factors. Let's face it – they have the best backcourt in the country in Chris Duhon and Jason Williams. Their frontline is as solid as it was a year ago. There will be publications that will put on their cover other schools as number one. But this is merely an attempt to cater to the anti-Duke crowd and sell more magazines.
There certainly has been a great deal of jealousy thrown at the Duke program. It's sort of like what the Yankees have gone through the many decades when they walked away with the World Championship. People root for you on the way up if you have been down a long time. But once you reach that top mark, they turn around and cheer if you fall down. An objective person reviewing the Duke program comes away with admiration. These guys who run the program do it right from top to bottom.
Hate to tell this to the anti-Duke crowd this season, but you will have more reasons to dislike the Blue Devils. It's our thought process that this Duke team might not lose a game this season. It's likely that teams like Maryland and Virginia in the ACC will throw some scares into the Duke program. These two teams have the best opportunity to topple Duke in an ACC battle. But it's also the belief here at Rivalshoops.com that Duke will successfully defend its National Championship. Any reasonable person would agree, don't you think?
The Tar Heels still await
Jason Fraser's
decision. Fraser (
left
), 6-10 from Amityville High School on Long Island, is rated the number one player by Alliance Sports because of his ability to impact the game at both ends of the court. Fraser returned from Louisville. This was his third official visit. He has already visited Villanova and North Carolina. Fraser still says the Heels have a shot at him. But St. John's gets the last shot at Jason for an official visit. Fraser said he plans on visiting the Red Storm this upcoming weekend.
If the Heels do not land Fraser, all is not lost. UNC, already with a top five recruiting class, can afford to dip into the JUCO ranks perhaps or overseas. They are in the preliminary stages of gathering information on other top forwards still left in the class of 2002. One particular player is
Damion Grant
, who was recently measured at 7-1, 245-pounds. A player like Grant, to go along with 7-6
Neil Fingleton
, is not a bad combination when you have
Sean May
,
Rashad McCants
,
Raymond Felton
,
Jawad Williams
, etc., part of your program.
There will be some growing pains this year for the Tar Heels and sometimes the UNC fans will become impatient. But the best days for UNC are a year down the road. It's part of the building process for Matt Doherty and his staff. UNC fans should be patient. Doherty deserves it at this stage of his young career.
Georgia Tech:
A special note
: Georgia Tech's
Michael Isenhour
, a senior power forward, was diagnosed with and is currently hospitalized. He is undergoing chemotherapy. If you would like to him your well-wishes, send it along to Georgia Tech basketball office, 150 Bobby Dodd Way NW, Atlanta, Georgia 30332. We have been asked for well-wishers not to send flowers or fruit. Send Mike a note! He is expected to be hospitalized another 20-30 days.
Barry Elder, a 6-5, 220-pound freshman swingman, has been opening some eyes at practice. Elder has been shooting ball extremely well. He is playing solid defense. Elder goes to the basket well. He is likely to earn some decent playing time. Another newcomer, Luke Schenscher, has also been impressive to his teammates. He needs to gain more strength to handle the rigors of the ACC. But he can also shoot the ball. He is likely to also receive significant playing time for Georgia Tech.
One of the fun players that Clemson fans will enjoy playing next year and for the three years after will be
Shawan Robinson
(
right
), a 6-2, 165 pound combo guard from Leesville Road High School in Raleigh, NC. Robinson had made his commitment to Clemson during the summer. Robinson is quick and goes to the basket hard. He can make the other four players on the court better with his skills too. Robinson decided to stay in the South because of his family. Robinson is also a battler. He plays hard all the time and is willing to do whatever the Clemson coaching staff needs him to do. "If I have to play the wing, I will," Robinson said. "If I have to play the point, I will. I just want to help Clemson win."
We will keep you posted on how Florida State recruit
Todd Galloway
(
left
), a very talented 6-0, 170 pound guard from Notre Dame Academy in Middleburg, VA., does this season. Galloway committed to Florida State in late August. Galloway, who attended Baltimore City College prior to last season, said that he appreciates what the move to Notre Dame Academy has enabled him to do. "Being at Notre Dame really helped me focus on school and eliminate a lot of distractions."
With Galloway on track academically, this has given him some more time to focus on basketball too. The fiesty lead guard played with the Baltimore Select during the summer. He has improved over the past year and is battle tested against some of the top competition in the class of 2002. As his season progresses, we will pass along the updates for the Florida State basketball fans.
NC State:
Ben Rand
, a 6-6, 180-pound swingman from Rochelle High School in Illinois, told us he wants to play in either the Big Ten, ACC or Big East. Right now, the Big Ten schools are all over Rand, who is a junior. "It's early in my process," Rand said. "I am open and just researching the schools that are interested in me."
North Carolina State is the only ACC school thus far to show some interest while many Big Ten and Big East schools have already made contact. Rand averaged 26 points a game last season and is considered one of the top players in the class of 2003. He helped his team to a 25-4 mark. "Our team returns everyone except our point guard," Rand said. "So we should be good again this year."
Rand, who also runs cross country, wants to make his perimeter game more consistent. "I scored mostly from within 15 feet of the basket last year," Rand said. "I want to improve the outside game more."
It's likely that
Travis Garrison
(
right
), the outstanding 6-9 forward from DeMatha High School in Maryland, will have an excellent shot at landing on the McDonald's All American team. One of the most influential members of the McDonald's event is long-time great head coach of DeMatha, Morgan Wootten. But Garrison really deserves serious voting consideration by the other voting members. He was as good as any forward this past summer. The balance of his outside game along with his inside moves makes him one of the most effective forwards in the class of 2002 on the offensive side.
Many don't rate Garrison high because he spent much of his time working out in the DC area. But this should not be a mark against him. Garrison is good enough to be on the McDonald's All American team. It's likely his coach will put in a good word for him too.