ABCD: Day one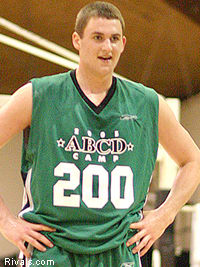 While all the whispers in the basketball recruiting world have Mayo ultimately choosing between USC and a shoe contract, Mayo remained uncommitted during the first day of the ABCD Camp despite speculation that he would announce for USC. In fact, the ground rules of his press conference included a ban on any questions regarding his recruitment.
Love drained multiple three-pointers and then when the defense pressed up against him, he put the ball on the floor and scored.
Love ended up with a team high 16 points and game high 13 rebounds, while Smith tallied 20 points on 10 of 13 shooting.
Appearing around 50-pounds lighter than last summer, Smith was extremely quick to the rim going both left and right. Defensively, he had both the strength and quickness to contend with Love. In his afternoon game, Smith went for 18 points, leaving him the second highest scorer of the day behind the camp leading Love.
Hickson, who scored 6 points, led the game with 8 rebounds.
Tucker went for a game high 16 points, while also grabbing 6 rebounds. Legion struggled for 5 points and 2 rebounds against the stronger and more aggressive play of Tucker.
Turner bounced back from a poor game in the afternoon session to score 11 points on 4 of 6 shooting. Even more impressive was his defensive player, where he held King to 4 points on 2 of 8 shooting.
This one finished in a draw as Jordan outscored Aldrich 12 to 6, but Aldrich had 5 rebounds to Jordan's 2 rebounds and Jordan had 4 turnovers to Aldrich's 2 turnovers. Both players had 2 blocks.
Aldrich's go to move his developing into a left hand jump hook. He is shooting it both off the pivot and a spin after a bounce the other direction. He is working himself back into shape after suffering injuries and his down to his preferred playing weight of 245-pounds.