ABCD All-Stars get offensive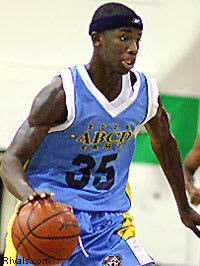 games are not for defense. It is almost a dirty word.
The Reebok ABCD all-star games on Sunday held true to
form on that belief.
There was showboating. There were unbelievable dunks
and alley-oops that made people jump out of their
seats. There was even a point guard battle between
got the crowd revved up.
But defense? No chance.
Flynn, a Syracuse commit, led eight double-figure
scorers on his team with 23 points and he added seven
assists and only one turnover as the Senior Black team
defeated the Senior Yellow squad, 170-165, in the
finale at Fairleigh Dickinson.
camp from start to finish in scoring and rebounding,
had 14 points and 12 rebounds, including a game-high
six boards on the offensive end.
Others who played well on the winning team were
who was impressive all week playing with a broken
finger, added 10 points in the win. Kansas commit
Fisher, who committed to Villanova, had arguably the
best performance in the all-star event and the local
Elizabeth (N.J.) St. Patrick product got the crowd
excited with nifty passes and electrifying moves to
the basket.
Fisher finished with a game-high 28 points and he
added six assists, although he did turn the ball over
five times trying to force the issue. He also hit 4 of
of the most athletic players in the country, finished
around the basket and had 24 points and five boards.
class by Rivals.com, finished with 17 points and seven
assists but struggled from deep, hitting only 1 of 8
as one of the better players in camp after a
disappointing first day, had 12 points and 10
rebounds, five on the offensive glass.
another player who had a solid week, finished with 22
six assists and no turnovers.
It was a wild game that saw the winning team finish 76
of 137 from the field in the 48-minute contest. The
winners went 9-for-31 (29 percent) from behind the
arc. There were a combined 70 assists and 40 turnovers
in the game.
Flynn, Hickson and Tyus were named the MVPs on the
winning team and Fisher, Smith and Walker earned that
honor on the losing side. Love, Jordan, Mayo and King
were named the senior players of the week.
on his team with 19 points and he added seven
rebounds, five on the offensive end, and 2009 prospect
Christian had 16 points and five boards as the Maroon
team defeated the White team, 127-122, in overtime of
the underclassmen all-star game.
who finished second in camp in scoring regardless of
class, both finished with 14 points and six rebounds.
week with protective eye gear because of a minor eye
injury, had seven blocks in the win.
eight rebounds and 12 assists, although he turned it
over 11 times trying to make the big play. Jennings,
who will play at Mouth of Wilson (Va.) Oak Hill
points and nine rebounds.
Lakewood (Calif.) Artesia, had 14 points and 10
six boards.
Ebanks and Braswell earned MVP honors on the winning
team and Jennings and Anderson were the losing team's
players of the week.