AAU Super Showcase: Big day for big men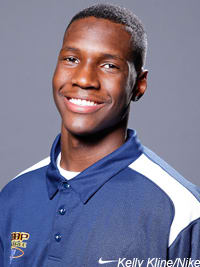 The third day of the AAU Super Showcase in Orlando was moving day as teams finished their pool play games and moved on to bracket play. With a new format this year in which teams from the Super Showcase filter into the AAU National Championships to combine into one event, many college coaches were hastily flipping through schedule books to try and maximize their viewing opportunities. The top performers from the day were mostly big men, with three in particular really catching our eye.
Signs of promise
Atlanta Xpress has one of the tallest prospects in Orlando with legitimately measured 7-foot-1 center
Trayvon Reed
. A 2014 prospect currently ranked No. 21 in the Rivals100, good enough to make him a four-star prospect, Reed not only has great size but is also gifted with an enormous wingspan and good leaping ability. While the young post presence still has a way to go in developing his skillset as well as his strength, Reed is very productive on the court as a prospect that can block shots, run the floor, and finish above the rim in the paint. Reed also shows signs of good footwork and interior touch, leading college coaches to believe that he could become a dominant interior scorer with added work on his post game.
In a Thursday contest against All-Ohio Red, Reed was viewed by coaches from
North Carolina
,
Kansas
,
Georgia
,
Georgia Tech
,
Miami
,
South Carolina
,
USF
and
Tennessee
. As a high ceiling prospect, Reed really hasn't even begun to scratch the surface of his potential. He should be heavily recruited and gain offers from the majority of the schools on this list by the time the evaluation period is over.
Man in the middle
The surprise of the day on Friday was the play of 7-foot Connecticut center
Paschal Chukwu
, a long and hardworking shotblocker with great potential. The Connecticut Basketball Club prospect was phenomenal in a game against the Queen City Prophets as he turned away shot after shot, and was able to run the floor well enough to consistently beat his defender downcourt for scoring opportunities. Chukwu is still a raw prospect, but has plenty of time to develop as he is just a 2014 prospect who is playing against older competition from the 2013 class.
College coaches from
Kansas
,
Cincinnati
,
Virginia Tech
and
Pittsburgh
viewed Chukwu on Friday, while many coaches in the crowd produced rumblings of some
Connecticut
interest for the Nigerian native. Recruiting big men is usually about potential over production, as young players with that much size often need more years of schooling to develop their skillsets to the point that they can be excellent college players. Chukwu is the classic case of that, but at 7-foot and with a college-ready skill in his shotblocking prowess, he is well worth the time investment.
Not for the weak-hearted
Throughout the month of July one of the biggest questions on the Midwestern circuit has been: Is 6-foot-7 forward
Nigel Hayes
good enough to play in the Big Ten? After this tournament concludes the answer is easy to discern, yes, Hayes is a clear-cut high major player. The three-star power forward from All-Ohio Red earned offers from
Minnesota
and
Wisconsin
in June, and those two schools have been following the Toledo native everywhere that he has been of late. In addition to those programs,
Ohio State
,
Michigan
,
Iowa
and
Michigan State
have been heavily tracking Hayes to see if the versatile forward would be a good fit for their program.
Hayes has a man's body at 6-foot-7 and 225 pounds of rock solid muscle. He's a high level athlete with powerful explosion around the rim, a non-stop level of energy and a tough guy mentality that intimidates opponents who are not as mature as he is physically. Capable of playing small forward, power forward or even center, Hayes has a versatile offensive skill package that allows him to handle the ball, drive it from the wing or high post, shoot the mid-range jumper and score it around the rim. A high level rebounder and excellent interior defender, Hayes' toughness is easy to spot with the way that he fights for loose balls on the court. College coaches from the previously mentioned programs feel like he is a prospect who will continue to improve over time, and despite being a little undersized for the post at their level, should be an excellent collegiate player.

Click
Here
to view this Link.
[rl]