AAU Showcase: Malik Williams goes off
ORLANDO -- Top 35 big man Malik Williams went off on Saturday as he led his team all the way to the finals of the AAU Super Showcase.

WILLIAMS GOES OFF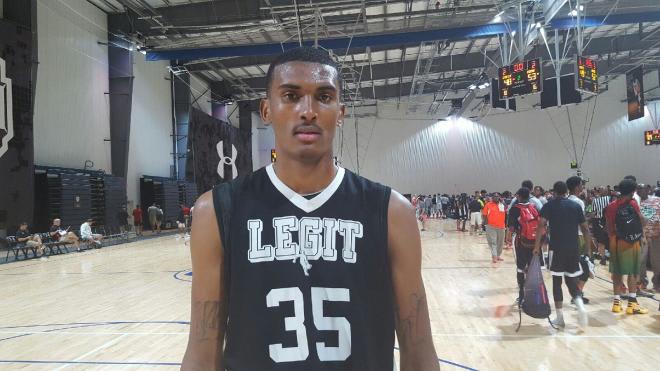 The No. 35 ranked player in the class of 2017, 6-foot-10 power forward Malik Williams made jaws drop during a near triple-double performance of 31 points, 15 rebounds and nine blocks in a semifinal win over the Jacksonville Magic where he did everything except make a three-pointer.

In the 17U Classic Division championship game, Williams went for a double-double of 24 points and 12 rebounds in a loss to Detroit EYBL team The Family. The 6-foot-11, 215-pounder possesses a lot of natural tools: he has long arms, he's agile, he runs the floor very well and he has good timing to block shots. Williams' play outside of the paint is impressive. He makes good decisions with the ball, is a skilled passer for his size and his jumper shows promise.

His post-up game is a work in progress and Williams does not have any noticeable bad habits. As he adds strength and confidence in his post game Williams could become the quintessential inside-outside threat. For now, Williams will post up when the opportunity is there but if he has a defender that he can go around, he'll pull him out to the wing and beat him off the dribble.
Williams, who recently took unofficial visits to Michigan State (his third trip there) and Louisville (his first trip there), told us that the recruiting process is getting "a lot busier" and that he gets lots of calls. He also flatly denied a rumor that his recruitment is a two-school race.
Louisville head coach Rick Pitino and Indiana head coach Tom Crean watched Williams on Saturday, as did assistant coaches from Michigan State and Iowa.
RYAN IS NO FLUKE
Class of 2018 shooting guard Cormac Ryan of the Middlesex Magic/Crotty made big shots as well as clutch plays at both ends of the floor to push his team to wins in two 17U Silver games.

In the quarterfinals Ryan had 31 points, made five three-pointers and dunked on a kid. In a four-overtime semifinal win over Baltimore United Black, Ryan made key defensive plays, had a clutch finish at the rim through traffic to force double overtime, knocked down two free throws late in the third overtime and finished with 27 points.
Ryan has gone from "who is that guy" to a four-star prospect who will crack the 2018 rankings in Orlando this week.

Following the free throws in the third overtime, Ryan's knee band came loose as he ran back on defense. When he tossed it out of bounds one high major assistant coach almost dove on it like a garter belt at a wedding.
DICKENS A LONG TERM BET
Four-star center Dajour Dickens and his Boo Williams teammates were eliminated from the Super Showcase Saturday morning, but Providence College fans will be happy to learn that Dickens has added some weight to his frame since his February commitment.
Dickens' playing time was limited largely due to the use of a small lineup to combat the perimeter heavy NY Lightning. The No. 103 ranked prospect in the Rivals150, Dickens has a combination of athleticism, height and length that is rare at the center position. Right now Dickens blocks shots mostly due to good timing, is a good area rebounder, changes direction smoothly and is a very good passer out of the post.

As he grows into his body and adds the strength he will need to finish in traffic and battle for rebounds in the rugged Big East, Dickens could become an all-conference type of player. His upside is terrific.
FINAL SUPER SHOWCASE NOTES
Four-star small forward Jeenathan Williams brings great energy to the court for Albany City Rocks 16U team. The smooth shooting lefty excels in transition and is active on defense. The No. 88 ranked prospect in the 2018 class is long and because of that he will take risks on defense which sometimes gets him out of position. However his length and athleticism usually helps him recover. Williams told us that Georgia Tech, Rutgers, Buffalo, Temple, Marquette and Canisius have offered. Williams has been to Syracuse for an unofficial visit to see a game and had an unofficial visit of sorts to Saint Louis while he was out there for the Nike Elite 100 Camp.
Four-star point guard Devon Dotson did not score in Team Charlotte's semifinal win, but he provided good leadership and was a calming influence on his team during a furious second half rally by BABC. Dotson, who is still not fully recovered from an ankle injury he sustained earlier in the travel season, hurt his back Friday in a quarterfinal game. Although the No. 49 ranked rising junior battled through those ailments, they limited his effectiveness. Dotson is a heady and gifted ball handler. At 6-foot-2, 175 pounds he handles contact well and is able to draw fouls and finish inside. Kansas recently offered Dotson, who told us that North Carolina, Wake Forest, Florida, Florida State and Memphis are among the schools contacting him consistently.
A broken nose didn't stop NY Lightning 2017 wing Christopher Duarte Saturday. Playing with a protective mask, Duarte connected on three jumpers beyond the arc and used his high level court awareness to make plays for himself and others. At the other end of the floor the 6-foot-6, 180-pounder used good footwork and good court vision -- despite the mask -- to cover a lot of ground in his team's zone defense. Duarte missed the second and third EYBL sessions when his nose was broken in two places during a game in Brooklyn. According to his Lightning coach, Duarte holds offers from Saint Louis and Stony Brook plus interest from Auburn, Dayton and Hofstra.
Quincy Anderson is a capable point guard and a confident shooter for Playground Elite 16U. He showed he could shoot it off the bounce and stick the perimeter jumper. Anderson moves well without the ball and does a good job finding gaps in the defense. He is active on defense and got his hands on a few balls. Anderson did not struggle with pressure and was able to maintain his poise when his team was dealing with adversity