AAU Championships and Showcase: What We Learned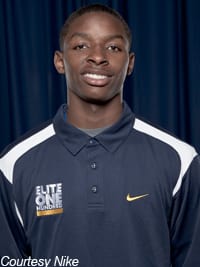 ORLANDO, Fla. -- Hundreds of Division I college coaches traveled to Florida during the third of three July live evaluation prospects. With the AAU National Championships in the 16-and-under and 17-and-under divisions, as well as the always prestigious Gold Super Showcase, all being played under the same roof, the action was nonstop over the course of the four-plus days that Rivals was in attendance.
By now, we all know who the top performers were in Central Florida, but what did we learn about the elite prospects at the event and the class of 2014, specifically, as a whole?
After examining the notes and game trends, here's our take on the week that was the AAU National and Super Showcase, and what we can take away as the AAU season comes to a close.
Point A to point B
To win games at the highest level, you have to have a point guard on your roster who can get the ball from point A to point B, with the second point being the best spot on the floor for that point guard's team to get a quality shot attempt.
It took just a quick glance at the list of final four teams in the Gold Super Showcase to understand just how important point guard play is. The four teams that made the semifinals were the Howard Pulley Panthers (who feature five-star
Tyus Jones
), Each 1 Teach 1 (led by four-star
Joel Berry
), Boo Williams (with four-star
Robert Johnson
) and Team Final (with four-star
Ja'Quan Newton
running the show).
Throughout the week, all four of these point guards played up to their lofty
2014 Rivals150
rankings, with Jones and Berry performing at the highest level.
Jones, the No. 2 prospect in his class and the top-rated point guard, led his Minneapolis-based team with a steady floor game, an excellent passing attack and his signature calm demeanor against full-court pressure. The 6-foot-1 Apple Valley (Minn.) product even got it going in the scoring department, showing an ability to craftily finish around the rim in transition and the speed to break away from defenders in the full court.
Duke
,
Baylor
,
Minnesota
,
Michigan State
and
Kentucky
were among the schools to track Jones in Orlando. While the point guard declined to give much information about who leads in his recruitment, he reaffirmed his desire to take visits early in the fall and make his college decision during the early signing period.
Berry, a 6-foot floor general from Lake Highland (Fla.), is someone whom some national scouts have been a little down on lately because he's not that flashy, playmaking type we've come to expect from slightly undersized guards. However, looking at what he's done in July, specifically in Orlando, it's tough to knock Berry because he leads his team to wins. After helping E1T1 capture the Nike EYBL championship this month, the
North Carolina
commit led his Florida-based squad to a key win at the showcase in a nationally televised game against Houston Hoops. He showed his usual strong decision making, defensive presence and timely shot making. No, he's not the most exciting guy on the court, but Berry's ability to make the players around him better is what qualifies him as a high-end four-star prospect.
Ball in the bucket
Defense is great, but to win in college basketball you need guys who can put the ball in the bucket. Even more important, they must have that ability to create a shot for themselves when the shot or game clock is running down. Now, those guys aren't easy to find, but a few prospects in Orlando looked like they could fill that role for a team. Committed guys such as five-star small forward
Justin Jackson
(North Carolina), four-star combo guard
D'Angelo Russell
(
Ohio State
) and four-star wing
Grayson Allen
(Duke) were impressive over the four days we evaluated them. However, with those college decisions in the past, top high-major coaches on hand focused more on five-star wing
Kelly Oubre
and four-star wing
Devin Booker
. While Booker and Oubre are known as volume scorers, they have slightly different games.
The 6-foot-6 Oubre, out of Richmond (Texas), is an excellent 3-point shooter with deep range and quick release on his lefty stroke. Playing alongside a pair of fellow five-star prospects, Oubre has learned to space the floor and wait for shot opportunities to open, becoming the go-to scorer late in the clock for his Houston Hoops team. However, it isn't all about shooting for Oubre. The combo wing is also a dangerous slasher in straight lines who has the athleticism to finish above the rim. He is considering a long list of schools, and coaches from
Kentucky
,
Kansas
,
Arizona
,
Florida
and
Connecticut
were among those who tracked Oubre in Orlando.
Booker has similar size, but the Moss Point (Miss.) native is more of a smooth handler who can use fakes, hesitation and dribble crossovers to create his shots. Booker plays in attack mode on every possession, and he understands that against elite competition he needs to produce big offensive numbers for his Alabama Challenge team to win. Somewhat of a laid-back player on the court, Booker showed a tendency to come alive when the time was right for the Challenge, knocking down deep jumpers off the dribble, using screens well and finding ways to weave through traffic for acrobatic finishes in transition. Booker is considering a long list of schools as well, and he was evaluated by Kentucky,
Michigan
,
Michigan State
, Florida and
Missouri
at multiple games in Orlando.
Hardwood hustlers
The quickest way to make an immediate impact at the college level for a freshman is to be an energy guy who will make the hustle plays, especially on the defensive end and boards. While the following trio of prospects are talented scorers, as well, their effort and athleticism separate them from other forwards their age, boosting their recruiting stock in the process.
Tate led his team to a quarterfinal appearance, dominating in the paint despite standing just 6-foot-4. Booker's defensive effort and relentless energy helped Houston Hoops get past the Alabama Challenge when he held Booker to a hard-earned 14 points. But it was the Minneapolis (Minn.) De La Salle native, Travis, who increased his stock the most.
The athletic and incredibly strong 6-foot-8 power forward was a man among boys all four times that Rivals.com saw him, accumulating double-double numbers in each of the outings.
Playing alongside Tyus Jones with the Howard Pulley Panthers, Travis got points in the pick-and-roll game, beat opponents down the floor for transition dunks off Jones' passes and scored second-chance points around the rim. His ability to create his own shot and aggressively pound his way to the rim stood out the most.
Leaving opposing coaches to shake their heads, and high-major coaches to circle his name, Travis was unquestionably the most valuable player in Orlando, making believers of anyone who doubted his four-star status in the 2014 class.
Travis boasts a long list of suitors, and he plans on cutting his list in August. With schools such as Duke beginning to throw their names into the hat to land his services, this recruitment looks like it is just getting started.

Click
Here
to view this Link.
[rl]