A King James classic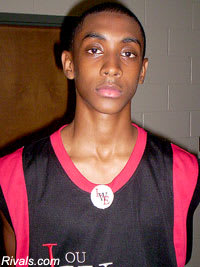 Maybe the best game of the entire spring to date closed out Saturday's action. The game between All-Ohio Red and the Ohio Basketball Club was a classic rivalry that renewed in a big way.
Without their frontline doing their normal damage, OBC was able to extend their lead back out to double digits with less eight minutes to play. At that point it was again Staten and Craft that willed All-Ohio back.
Staten did it on offense, Craft on defense. Craft didn't allow Cottrill to get open looks or get to the rim, while Staten created off the dribble and either found open teammates for buckets or hit driving layups.
In the end with the game tied it was Staten who made the final play. He drove the lane and got fouled with four seconds left, and hit two pressure free throws. Cottrill's last second three wasn't close, and All-Ohio snuck away with the win.
OBC was led by Parker's 18 and Harrow's 14 while All-Ohio got 14 from Staten to advance.
One name to remember is Fabricio de Melo. The little seen center has a chance to be special. At 7-feet tall and 270 pounds, Melo runs the court well, has good hands, and can score down low. On top of that he is a good defender. As he gets into better shape the sky is simply the limit. This is a player that everyone is going to be paying very close attention to for the rest of the summer.
Alex Rossi reports offers from California, Northwestern, and Iowa. Also he has interest from Stanford, Virginia, Alabama, Florida State, and Notre Dame
Kyle Marshall says he has 16 offers, some of them are Auburn, Kansas State, Butler, Houston, UNC-Wilmington, and South Carolina
Mikal Hopkins has an offer from Syracuse to go along with interest from Georgetown, Florida, and Texas
Michael Gbinije has interest from Virginia, Virginia Tech, Texas, Pittsburgh, North Carolina, Kentucky, Florida, Georgetown, Duke, and Connecticut.
Terrence Jones notes interest from Marquette, Oklahoma, North Carolina, Indiana, Florida, Oregon State, Cal, UCLA, USC, Washington, Washington State, Georgetown, Florida State, and Tennessee.
Mychal Parker has offers from Miami, Maryland, Florida, Clemson, Arkansas, NC State, Virginia and Virginia Tech. Along with those, he is getting serious looks from Kentucky (new staff), Wake Forest, and USC.