2020's top point guard R.J. Hampton talks early visits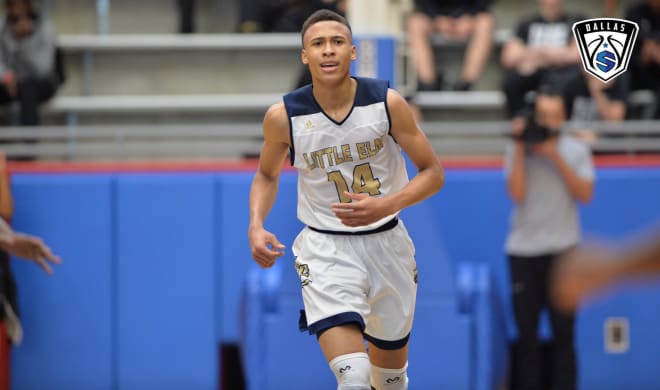 DUNCANVILLE, Texas -- Maybe the best guard in the class of 2020, five-star sophomore R.J. Hampton is a scoring machine with skill and feel for the game.
Not surprisingly, the 6-foot-4 floor general has attracted offers and interest from all across the country. Among those who have offered include Baylor, Houston, Kansas, LSU, Oklahoma State, SMU, TCU, Texas A&M, Texas Tech and UCLA.

IN HIS OWN WORDS
So far, Hampton has seen the campuses of Baylor, Duke, Kansas, TCU and Texas and he broke down what he likes about each program.

Baylor- "I like that they are good every year. Coach (Scott) Drew just finds a way to make it work. They've made Sweet Sixteens and Elite Eights and they love to compete. When I've been down there at practice that's what he preaches, to compete."

Duke- "I went for their Countdown to Craziness and it really is countdown to craziness. Their fans are crazy and Coach K (Mike Krzyzewski) and the program he runs is great. He has a hall of fame program and he's a hall of fame coach so just being in the atmosphere with him was mind blowing."

Kansas- "Kansas was a great visit. I went up their for their Late Night and the atmosphere was great. It's really a basketball school. Coach (Bill) Self and Coach (Jerrance) Howard really made me feel like I was at home on my unofficial visit. They took me all around and showed me everything so it was real fun."
TCU- "I think Coach (Jamie) Dixon is doing a great job with turning it around. There's a lot of in state guys and they are trying to be a top caliber program so what he's doing there is great. All of the players are buying into the system."

Texas- "Coach (Shaka) Smart prides himself on family. With them it's just that they love to compete and love to win. They are trying to turn it around and get back to what they've been."

WHAT'S NEXT?
Hampton is now focused on his sophomore season at Little Elm where he's putting up huge numbers. He wants to see who else offers and figures he'll get things down to a more manageable list after the summer of 2018.

"It's really a to be determined thing," said Hampton about his recruitment timeline. "I'm going to listen a lot to my dad because he's been through it before. It's about what he's feeling and what I'm feeling about schools and I think I will probably cut my list heading into my junior year."

RIVALS' REACTION
Hampton has potential college star written all over him and with his size and scoring ability can play either the point or shooting guard in college. He said that the only reason Duke hasn't offered yet is that Krzyzewski needs to see him in person and it's likely that he'll get that Duke offer and offers from the rest of the top programs in the country.
It's early, but Hampton has the feel of a big time prospect who could be lured out of his home state of Texas.