2020 Intro: Five-star Julian Strawther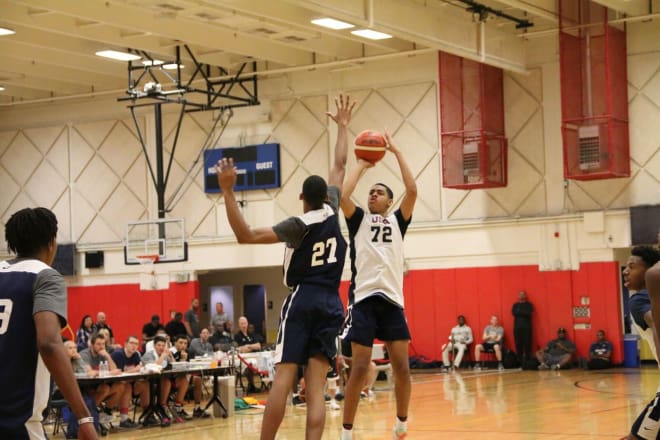 Since 2009, class of 2020 wing Julian Strawther is the 21st five-star prospect to play his high school basketball in Las Vegas. However, he's only the fourth to not attend either Bishop Gorman or Findlay Prep.
There's no question that Vegas has a basketball scene and the 6-foot-6 Strawther is looking to prove that you don't have to go to a private school power to be attain a high level.
"There's a little sense of pressure like I have to perform every night," Strawther told Rivals.com. "Then again I focus on trusting myself and what I can do with my game and I think that's what people love me for.
"I think that I'm real versatile for my height. I can shoot the ball pretty well, I can attack off the bounce and I am more athletic than people realize."
College programs have sure found out about Strawther. He can shoot with range, he's a tall and rangy ball handler and because of that he's gotten offers from Creighton, Oklahoma, Virginia Tech, Gonzaga, DePaul, Florida, Arizona, Washington, Florida State, Oklahoma State, California, UCLA, USC and hometown UNLV.
There's no rush with the recruiting process for Strawther or his family.

"We are going to show every school the same amount of attention right now," said Strawther. "We're just really enjoying going through the recruiting process. It's a good experience.
"I want to have a great relationship with the head coach and I'm looking for an uptempo style that suits my game."
As Strawther navigates his high school career and a high level recruitment, he can also lean on somebody who has been through it before and played at the highest level. NBA veteran Quincy Pondexter -- a top 50 prospect back in the class of 2006 -- runs Strawther's summer program California United. Pondexter has been mentoring the sophomore and given him great perspective for the future.

"I learned the work ethic and what it takes to play at the next level," said Strawther. "There's a lot of sacrifices, you have to put time aside to do what you have to do and get it done every day."