Class of 2020 five-star B.J. Boston previews upcoming visits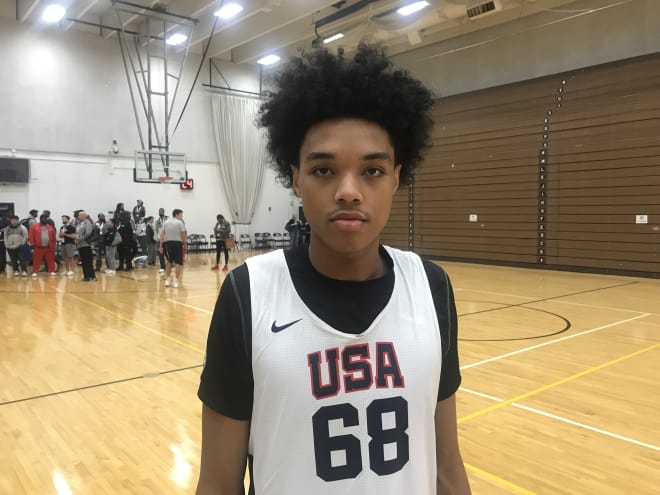 COLORADO SPRINGS, Colo. - Eighty-seven of the top high school basketball players were on hand this past weekend at USA Basketball's training camp and 2020 five-star B.J. Boston was one of the standouts.
Boston is a long, athletic guard with bounce and a killer outside shot. It's not surprising at all that schools such as Duke, Kansas, Alabama, Ohio State, Florida, UCLA and more are after the 2020's No. 8 player.
Boston has four visits set for the fall starting with Duke. Then he'll go to Florida, Alabama and Ohio State.
"I'm excited to start taking visits. Now that I'm a junior, the whole recruiting process is getting more serious and I'm looking forward to seeing some schools and how the teams practice," Boston told Rivals.com.
IN HIS OWN WORDS
Boston's first official visit to Duke will be on Oct. 19 for its Countdown to Craziness and then he'll visit Florida, Alabama and Ohio State in the weeks to follow. Those are the only official visits he has set for the fall.
DUKE: "I have a good relationship with all the coaches there and I know a few players on the team. I get the Brandon Ingram comparison a lot and I've talked to him a couple times. He jus tells me to keep working hard and told me how it is being a part of 'The Brotherhood.' I'm just blessed to have that offer."
FLORIDA: "I think Florida is going to be a fun visit. It's a nice campus and I have a good relationship with coach (Jordan) Mincy. I know Scottie Lewis just committed there and they have Tre Mann as well so they're building something there for sure."
ALABAMA: "Coach Avery (Johnson) is just trying to get me to the league, that's his pitch. I'm friends with Collin Sexton and he just tells me it's a good program and it's where it's at. I'll be watching John Petty this year and I know Herb Jones as well so yeah I'm familiar with their team."
OHIO STATE: "Last time I was at Ohio State, (I was) there for a football game and they played Penn State and that was one of the best visits I've ever been on. The fan atmosphere was crazy and just knowing Ohio State has fans like that is something special."
WHAT'S NEXT?
There had been some rumors circling that Boston would end his recruitment early but he said that's not the case.
"I'm going to take visits this year and then some more next year so I don't think I'll be committing too early. I just want to get the most out of this process," Boston said.
Look for more bluebloods to get involved in Boston's recruitment as the year goes on and he starts his high school season.
RIVALS' REACTION
Boston solidified himself as one of the top players in the highly talented 2020 class this past weekend at the USA Basketball training camp and his playing style fits with many programs. The Brandon Ingram comparisons are spot on and I can't imagine any player going to Countdown to Craziness and not being high on Duke afterward. This is far from over but for the moment, I'll give the edge to the Blue Devils as the early leader.