Class of 2018's top player R.J. Barrett picks Duke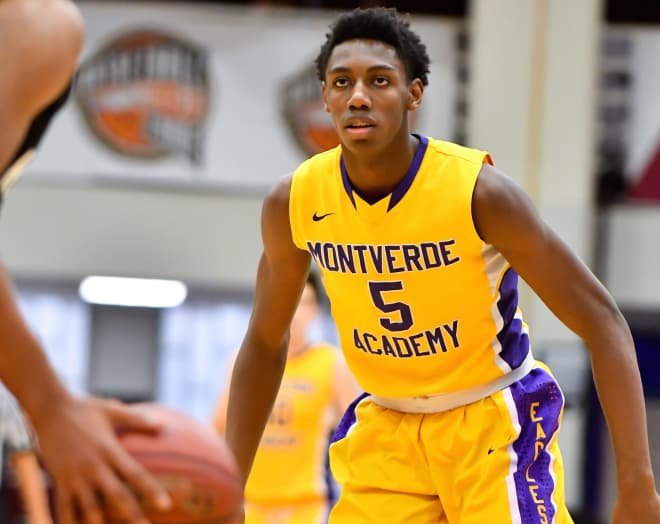 MORE: Class of 2018 Rivals150 | Team Rankings | Making the Case for Keldon Johnson
Friday night on The Sports Network in his home country of Canada, 2018's top-ranked player R.J. Barrett selected Duke.
"I've made a decision that next year I will be attending Duke University ," said Barrett during his announcement.
A skilled, competitive and highly productive 6-foot-7 wing, Barrett picked the Blue Devils over Kentucky and Oregon. What he brings to the table in Durham, how badly his choice stings the Wildcats and Ducks, and where they turn now that Barrett is off the board ....
Excitement level: 10
What Barrett means: Coach Mike Krzyzewski and the Blue Devils already had a strong class, the addition of Barrett gives them the nation's top player to go along with the country's top-ranked small forward in Cameron Reddish (No. 4 overall) and the country's highest-ranked point guard in Tre Jones (No. 7) overall. That group makes up the best recruiting class in the country to this point and keeps the talent pipeline pumping into Durham.
A complete offensive player, Barrett is particularly adept at creating for himself off the dribble and using his strength, his feel for the game and playmaking ability to set himself and others up for scores. He rebounds well, has post game and with his size allows for a lot of versatility. With current freshman (and former five-star recruit) shooting guard Gary Trent likely to come back for a sophomore season, the Blue Devils will be able to play a jumbo perimeter group or use either Barrett or Reddish at the four and play a super skilled brand of small ball without sacrificing too much size.
MORE: Duke 2018 commitment list
********
Sting: 5
What's next for the Wildcats: Sure, John Calipari and the Wildcats would have loved to have Barrett; he's the type of versatile, big and tough-minded wing that they had in Michael Kidd-Gilchrist when UK won Calipari's national championship. Only difference is that Barrett is much more polished offensively. But, if there is any program that has proven it will just go and find other big-time talent it is UK.
The "replacement" recruit for Barrett could happen as early as Saturday night when five-star wing Keldon Johnson makes his choice. This weekend, the Cats are hosting top 40 shooting guard Tyler Herro for an official visit and appear to be the heavy favorites to land the Wisconsin scorer. If they landed those two, it would more than make up for missing on Barrett. And don't forget, they are already on the board with five-star point guard Immanuel Quickley.
Also important to consider is this year's roster. Combo forward Kevin Knox and shooting guard Hamidou Diallo look like pretty good bets to leave after their freshman seasons but depending on how he recovers from injury, there's a really good chance that Jarred Vanderbilt could be back for a second year. Bottom line, the Wildcats are going to be just fine and one of the safest bets in all of sports is that Calipari will land an elite class.
MORE: Kentucky 2018 commitment list
********
Sting: 7
What's next for the Ducks: This one may hurt the Ducks a little more simply because of the amount of time they've put into recruiting Barrett since before he even entered high school.

Thanks to the employment of assistant coach Mike Mennenga, Oregon has been the greatest ambassador for elite Canadian talent within recent years. Oregon already faces a new season with questions needing to be answered due to last year's departures. While they patched together some of their holes with grad-transfers MiKyle McIntosh and Elijah Brown, the Ducks will be in a similar position of who fills what role next year.

They have freshman Troy Brown, who could easily be a big-time player, but there's also the chance that he could be gone by next season. Also, the Ducks have the commitments of five-star 2018 wing Lou King and top-60 forward Miles Norris. They are also looking like the team to beat for center Bol Bol, the country's No. 3 player.
In the absence of Barrett and possibly Brown next season, there will be a bit more pressure on Keith Smith to come up big in his junior season and perhaps Victor Bailey can become a primary scorer as a sophomore. On the recruiting front, the primary remaining target is top 50 Will Richardson but he's a combo guard. The Ducks have always been great with finding junior college or graduate transfer players to fill holes and it wouldn't be a surprise to see them go that route to compensate for missing out on Barrett.