2018 early signing period: Long range forecast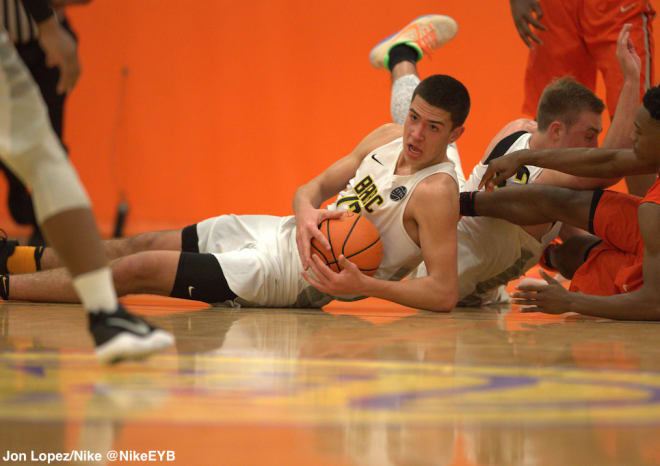 The early signing period for the class of 2018 has reached a halfway point. Many of the nation's top players have put the pen to paper and today national analysts Eric Bossi and Corey Evans do some long term forecasting based on those who have already signed.

PLAYER WHO WILL WIN THE MOST GAMES IN COLLEGE
I guess by extension that rest of Michigan State's outstanding recruiting class would fall into this, but I think Loyer is going to be the ring leader. He's a nails shooter, super competitive and has leadership skills. He's one of those guys that Spartan fans will love while other Big Ten fanbases will feel like he's in college for seven or eight years.

First, it is about finding a program that has become allergic to losing, of which Villanova fits the bill as they have dominated the reconfigured Big East. Second, it is about finding someone that defines a winning ballplayer. Mesh the two together and Cole Swider, a top-50 pledge to Jay Wright's program, has the chance to go down as the winningest player over the next four years from the 2018 class.
MOST LIKELY TO LEAD THE NATION IN SCORING
A physically tough and competitive guard who can really go and get it off the dribble, Bradley has put up big numbers at the high school and grassroots level. With his school choice, style of play and the fact that he should be around college for a few years he's got the demeanor and game to end up leading the country in scoring

Most of the time, the leading scorer in college basketball comes from the mid-major ranks but Ignas Brazdeikis presents too good of a case as to why he could take on such a title. While he is headed to Michigan to play for a coach in John Beilein that is all about continuity, even he will have to conjure up ways to use the Canadian as his primary scorer. Brazdeikis is arguably the best scorer in high school basketball and could become the best in college basketball in the coming years.
MOST LIKELY TO LEAD THE NATION IN REBOUNDING
Perry reminds me an awful lot of Julius Randle when he was headed to Kentucky. Strong, athletic, plays tough and embraces physicality. On top of that he has great hands. Randle was a top 10 in the country rebounder his lone season at Kentucky and I think that Perry will likely need at least a couple of years of college giving him a chance to put up big time numbers on the glass.

I need someone that just eats glass for breakfast, lunch and dinner, a calling card of Carte'Are Gordon's. Making his case even stronger is that he will be playing in the Atlantic 10 and for a program in need of an immediate big man producer next year, a role that Gordon will demand from day one.
MOST LIKELY TO LEAD THE NATION IN ASSISTS
First of all, Jones is one of the better passers that I have scouted in the past couple of years. Second, he's going to be surrounded by big time weapons at Duke. High scoring R.J. Barrett and Cameron Reddish are just the tip of the iceberg when it comes to the weapons he'll have at his disposal and to help pad his assist numbers.

I absolutely love the fit of Andrew Nembhard at Florida and to me, he is the best passer in the half-court setting that the high school ranks has seen in some time (yes, even better than Ben Simmons and Lonzo Ball). Put him next to a cast of characters including Jalen Hudson, Deaundrae Ballard, Noah Locke and Keyontae Johnson and what you have is the top assist man from the 2018 class.
MOST PRODUCTIVE FRESHMAN NOT CURRENTLY RANKED IN THE RIVALS150
One of the better just outside the Rivals150 signings in the country, Koureissi has loads of athleticism, talent and upside. He already produces at a high level but is a bit raw and sometimes not the most efficient. When he hones his skills in college, recognizes better shots and hits the weight room he could be a monster. It won't hurt that he's going to play with an outstanding mid major point guard in Jacob Gilyard.

If we are sticking strictly to the high-major rung, I have to go with Duane Washington Jr. The nephew of Derek Fisher, Washington will enroll at Ohio State next year as the only member in OSU's 2018 class not ranked; it says here that he will outperform all as a freshman and earn a starting spot from day one in Columbus.
FOUR-STAR MOST LIKELY TO DEVELOP INTO A ONE AND DONE
Guessing about which four-star could be a one and done is a total crapshoot. After all, if I had an inkling a guy would be one and done I would have already made sure he was ranked higher. Anyway, I digress. I'll go ahead and roll with Providence bound point guard David Duke because of his positional size, athleticism, defensive capabilities and capacity to get a lot better in a really short period of time. Plus, with his type of size and two way ability, it doesn't take a whole lot to get somebody excited enough to draft him.

Not many four-star prospects stand out as can't miss, one and done types by Coby White at UNC does intrigue me. The Tar Heels will have some shoes to fill at the lead guard position next year with the graduation of Joel Berry and while more of a scoring guard, White could catapult a tremendous first year in Chapel Hill into an NBA Draft selection.
THREE-STAR MOST LIKELY TO DEVELOP INTO AN NBA DRAFT PICK
I don't know if he will be effective is a freshman or even as a sophomore, but I'm going to be keeping a real close eye on Hayes. He's got all the late bloomer qualities going for him. Not much experience, growing into his body, newfound skill level, great size and athleticism. This guy has a huge ceiling for improvement and if we're betting on three-star prospects, he's my guy.

In today's game, where shot makers with size and length have become the trend, Emmitt Matthews fits the bill. Could the UConn wing develop into a Jeremy Lamb of sorts? The Huskies are hoping as he is a 6-foot-7, 3-and-D prospect with some athleticism to back it all up.
MOST LIKELY TO WIN A DUNK CONTEST
I don't even know if Bazley is a creative contest type dunker, but he's so fluid and has such dexterity that I think he could end up being one. Bazley is also a freaky athlete and that doesn't hurt. So, I give him the narrow edge over North Carolina bound five-star Nassir Little. Were he signed, Zion Williamson would be my choice.

The easy response would be Zion Williamson but I am going to go a different route with Mac McClung. One of the most explosive guards in recent years, whether its two handed windmills off of two feet or 360-dunks off the break, McClung can entertain.