2016 NBA Finals: Recruiting Review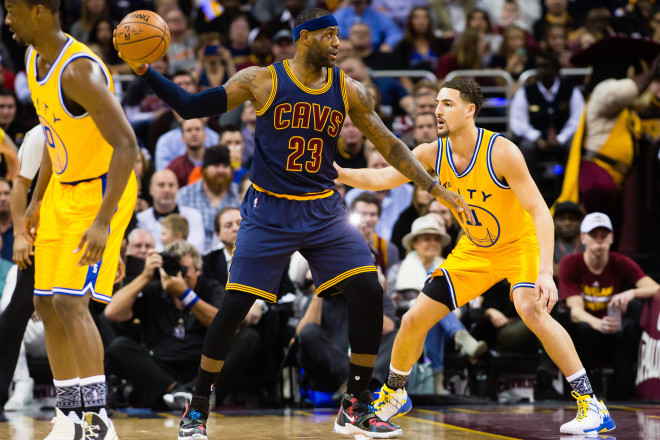 A rematch of the 2015 NBA Finals tips off in Oakland on Thursday as the Golden State Warriors and back-to-back league MVP Stephen Curry look to defend their world championship against four-time MVP LeBron James and the Cleveland Cavaliers. It's going to be basketball played at the highest of levels.
We operate in the world of recruiting and because of that, this series holds another level of intrigue. In a sense, Curry and the Warriors – many of whom weren't highly regarded high schoolers – are the poster boys for the 'recruiting rankings don't matter' crowd. On the other hand, James and the Cavaliers are a team made up almost entirely of elite level high school prospects that have lived up to their lofty rankings.
Every relevant player involved in the Finals graduated before my tenure with Rivals.com began. However, I saw all of those who played their high school ball in the States. Here are my memories of them.

GOLDEN STATE WARRIORS
Bossi memory: The only place I ever saw Curry was at the 2005 NBPA Top 100 Camp. I remember him being about 6-foot and maybe 140 pounds at the time. He was overmatched physically but showed a high basketball IQ and shot very well when left open. I ran a scouting service for college coaches at the time and thought he would make a good upper end mid major. Obviously, he's outplayed everybody's projection.
Bossi memory: The thought that Thompson was an overlooked unknown is partially fantasy. He ended up pretty well regarded as you can see by his ranking with Rivals. He had good size and could really shoot. He was also a bit of a late bloomer who developed quickly at Washington State and was part of a loaded 2008 class in Southern California that has seen seven players that were ranked in the top 71 – Jrue Holiday, DeMar Derozan, Brandon Jennings, Jeff Withey, Malcolm Lee and Larry Drew are the others -- play in the NBA.
Bossi memory: I remember thinking Green was tough and that he had a great motor. I also remember thinking that he was a bit undersized as a power forward and wondered how he would score against bigger players. Turns out he was much more of a playmaker and defender than expected and his game turned out to be a perfect match for today's NBA.
Bossi memory: In my mind, it was a tossup between Barnes, Brandon Knight and Kyrie Irving for the top spot in the 2010 class. I actually leaned in Barnes'direction because I liked his size, NBA type frame and athleticism. He's certainly been a good player but has so far fallen a little short of projections.
Bossi memory: The first time I saw Iguodala was at a tournament in Minneapolis during May of 2001 during one of my first full summers on the road. I actually went to watch a much more highly touted teammate (Richard McBride) and just assumed that the guy making all the athletic plays was the teammate. Turned out it was Iguodala. I thought he was a McDonald's All-American level talent.
KEY BENCH PLAYERS
The most highly regarded of the Warriors bench players was Shaun Livingston. A 6-foot-7 point guard, he was an elite talent from a loaded class of 2004. Had it not been for injuries, I've always felt he would have been an All-Star. His ability to stick in the NBA and produce for this long despite injury issues is a testament to his talent.
Both of the Warriors' bench big men, Marreese Speights and Festus Ezeli, were solid high school players. From the class of 2006, Speights was pretty highly regarded and a lot of that was because of his shooting and willingness to shoot each and every time he touched it. Ezeli was pretty raw as a member of the class of 2007, but he always had NBA size, strength and athleticism.
Finally, Brandon Rush is another who has hung around in the NBA despite injuries. In his high school days he was a high flyer and transition finisher. After two ACL tears he's morphed into a high percentage three-point shooter and good wing defender.
CLEVELAND CAVALIERS
Bossi memory: The single most hyped high school prospect in my career, James helped to change the way high school prospects are evaluated and covered. I can't think of another player I've covered who faced higher expectations, and in my opinion he's exceeded all of them. He was a marvel in high school because of athleticism, skill and the ability to elevate the play of those around him, and that remains true today. Amazingly enough, I never actually saw him play in person. Only on television.
Bossi memory: Love burst onto the scene as a highly publicized and skilled high school freshman and he's not slowed down. Up until 2016's Lonzo Ball, Love was the best outlet passer I ever saw, and as a high schooler he's still as skilled a low post scorer as I've ever seen. Love also does the best impression of Kip from Napoleon Dynamite you will ever hear.
Bossi memory: As I mentioned above, Irving was a guy I considered along with Barnes and Brandon Knight as the top guy in 2010. The first time I saw him play was in Las Vegas in the summer of 2008. It was in a back gym at Green Valley High School and as he hit the floor for the New Jersey Roadrunners, Billy Donovan was the only coach there to watch him drop a 40 spot.
Bossi memory: When he first burst onto the scene between his sophomore and junior years in the summer of 2002, he went by Earl Smith. Other than his name, pretty much nothing has changed. Smith loved to shoot his team in and out of games with deep jumpers back then the same way he does now. He was also a big-time athlete.
Bossi memory: Early in his high school career, I thought that Thompson could compete for the top spot in the 2010 class. I loved his rebounding and toughness, but ultimately I worried about his lack of go-to post moves. Early on, he looked like a surefire NBA player and his success isn't all that surprising.
KEY BENCH PLAYERS
The only key Cavalier bench player that was in high school (in the United States) during the Rivals era was Iman Shumpert. A very good player in the class of 2008, I always thought he had great size, was very athletic but didn't shoot well enough to be a true shooting guard and wasn't a good enough playmaker to be a full time point guard.
Power forward Channing Frye has been a weapon shooting the ball and of all the players in the Finals, he's the first that I saw as an actual member of the media at the 2000 KMOX Shootout in St. Louis.
Like Frye, Richard Jefferson has found the fountain of youth and hails from Phoenix. I remember being in awe of his athleticism while watching him in the 1998 McDonald's All-American game.
Finally, I first saw Mo Williams at the 2001 McDonald's All-American game played in Cameron Indoor Stadium on the campus of Duke. He's one of only three players -- along with Tyson Chandler and David Lee -- to make the McDonald's game that year that is still playing in the NBA.